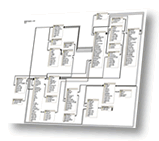 Welcome to the official web page of the Berlin Taxonomic Information Model.
The Berlin Model is based on the IOPI model and various later implementations of the basic principles laid out therein. It fully incorporates "potential taxa" (taxa as circumscribed by a reference) as well as the full complexity of botanical names according to the rules of botanical nomenclature.
Actually the Berlin Model is implemented as a SQL Server 2000 database. Please contact us for any question or comment.
News:
| | |
| --- | --- |
| | (4/6/06) version 2.17 of the model available. |
| | (18/5/04) The WebEditor demo is finally on-line. |
| | (22/4/04) New Website and new information available. |
Projects using the Berlin Model: