You are here
Home
›› CORONAVIRUS (COVID-19) Information: wir haben bis auf Weiteres geschlossen / closed until further notice
CORONAVIRUS (COVID-19) Information: wir haben bis auf Weiteres geschlossen / closed until further notice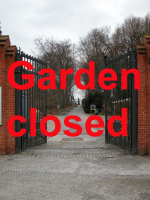 VERANSTALTUNGEN
Nachstehende Veranstaltungen sind abgesagt:
Alle Führungen, Vorträge, Gruppenaktivitäten, Workshops o.ä. bis auf Weiteres
Der Berliner Staudenmarkt im Botanischen Garten (4.+5. April 2020) ist abgesagt, doch findet online statt - mehr Informationen: www.berliner-staudenmarkt.de/
EVENTS
The following events are cancelled:
All guided tours, lectures, group activities, workshops or similar are cancelled until further notice
The event "Berliner Staudenmarkt im Botanischen Garten" (4+5 April 2020) is cancelled but will be online instead - for more information see www.berliner-staudenmarkt.de/
JAHRESKARTEN
Jahreskarten werden wegen der aktuellen Schließung des Gartens aufgrund des Coronavirus um einen Monat verlängert. Die Jahreskarteninhaber*innen melden sich bitte einfach an den Kassen, wenn der Garten wieder geöffnet ist - und spätestens vor Ablauf der Jahreskarte.
ANNUAL TICKET
Annual tickets will prolonged for one month. Please contact our cash desks before your annual ticket will be expired - when the garden will be open to the public again.
FOTO-/DREHGENEHMIGUNGEN und VERMIETUNG
Bitte haben Sie Verständnis, dass wir bis auf Weiteres (mind. bis 19. April 2020) keine Foto- und Drehgenehmigungen erteilen werden und keine Räumlichkeiten vermieten.
PHOTO/VIDEO PERMITS and FACILITY RENTAL
We will not grant any photo or video permits or handle any rental requests until further notice. Thank you for your understanding.
Wir überprüfen die Regelungen täglich und stehen in enger Abstimmung mit den zuständigen behördlichen Stellen.
Änderungen werden auf dieser Website bekanntgegeben, bitte informieren Sie sich vor Ihrem Gartenbesuch.
We are monitoring the situation on a daily basis and are in close consultation with the responsible authorities.
As the situation changes, we will update these pages accordingly, so please check back before your visit.  
Bei Rückfragen wenden Sie sich bitte an: av-p@bgbm.org
If you have any questions or concerns, e-mail us: av-p@bgbm.org