Neotropical lichen genera
pictures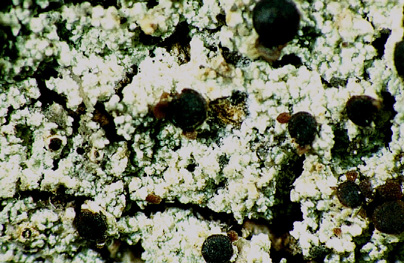 Auriculora byssomorpha (Nyl.) Kalb
Venezuela, El Avila, 2400 m, leg. B. Manara 796 [B].
Growing on bark of small tree trunks in open, usually low forest. Characteristic are the small, brown "flaps" on the margin of the apothecia.
[picture height = 3.5 mm].
Click for larger picture.
© Botanischer Garten und Botanisches Museum Berlin-Dahlem, Freie Universitšt Berlin
page editor: Harrie Sipman, this page last updated 1 July 2017, imprint
http://www.bgbm.org/sipman/keys/pict/Auriculora.htm