Neotropical lichen genera
pictures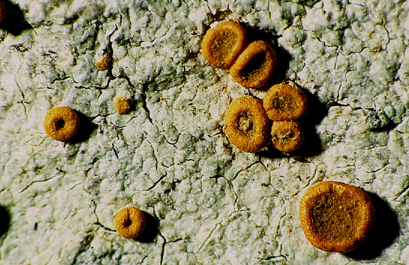 Brigantiaea leucoxantha (Spreng.) R. Sant. & Hafelln.
Brazil, ParanŠ, 3-5 m, leg. Hatschbach & Nicolack 54399 [B].
On not too shady tree bark. The species reminds of Caloplaca,
but the apothecia are unusually large and the thallus is more conspicuous, whitish.
The apothecium discs are often yellowish -pruinose.
[picture height = 3.5 mm].
Click for larger picture.
© Botanischer Garten und Botanisches Museum Berlin-Dahlem, Freie Universitšt Berlin
page editor: Harrie Sipman, this page last updated 1 July 2017, imprint
http://www.bgbm.org/sipman/keys/pict/Brigantiaea.htm