Neotropical lichen genera
pictures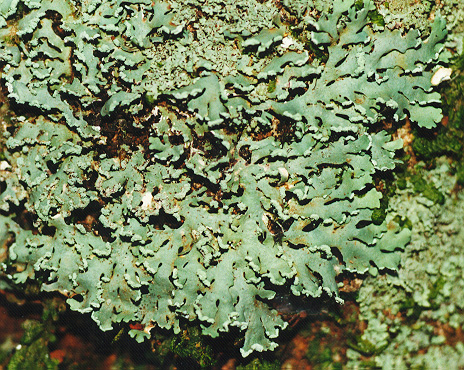 Heterodermia speciosa (Wulf.) Trevis.
Brazil, photo kindly provided by Alfonso Spielmann.
The genus Heterodermia comprises foliose lichens with deeply dissected, grey thalli, which grow more or less closely appressed to their substrate or are standing out. H. speciosa grows appressed, on bark or rock in the mountains, often on disturbed sites. It produces soredia on the tips of short, lateral lobes, and is corticate below.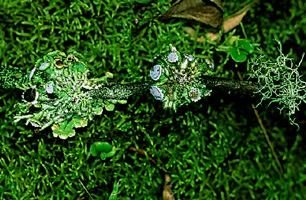 Heterodermia podocarpa (Bél.) Awas.
Ecuador, 2001, photo H. Sipman.
A representative of the group of Heterodermia species with free-standing thallus lobes. It forms small colonies a few cm wide, with plenty apothecia, on twigs in clearings in mountain forest, preferably on places with much fog.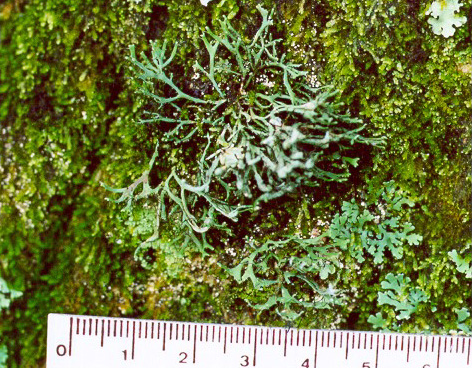 Heterodermia leucomelos (L.) Poelt
Brazil, photo kindly provided by Adriano Spielmann.
Another representative of the group of Heterodermia species with free-standing thallus lobes. Its lobes are linear and give the lichen a shrubby appearance. Still the lobes are dorsiventral, and the lower side lacks a cortex. It is white in L. leucomelos, and pigmented in related species: with red spots in H. vulgaris (Vain.) Follm. & Redon, and yellow in H. lutescens (Kurok.) Follm. & Redon
© Botanischer Garten und Botanisches Museum Berlin-Dahlem, Freie Universität Berlin
page editor: Harrie Sipman, this page last updated 27 Feb. 2002, imprint
http://www.bgbm.org/sipman/keys/pict/Heterodermia.htm