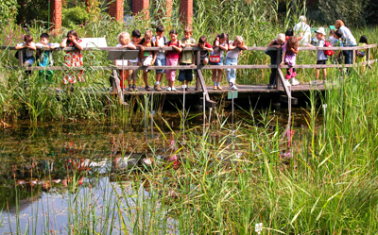 Guided Tours through the Garden
Explore the Garden with our experienced guides (botanists). You may choose to visit particular highlights or items of special interest. Particular tour subjects can also be defined. Please let us know the kind of tour you are interested in when making your reservations.
We offer guided tours in German and English. We recommend booking well in advance.
Booking and information: 
phone: +49 30 838 50-100 
e-mail: Fuehrungen@bgbm.org
Corona Info:
Group tours can be booked by members of one household (max. 4 persons + guide).
The rules of distance and hygiene must be observed.
The contact details of the participants will be documented.
In addition to the guided tour booking, an online ticket per participant* must be booked (6 € garden entrance, currently no group ticket on sale. Get your ticket here).
The fee for the guided tour is to be paid directly to the person in charge on site.
Fee:
The garden entrance fees are not included (reduced group rate). Off-time tours prices on application. 
Guided tour through the garden:
55,00 € for 1 hour per group (1 to max. 25 persons per group, 1 hour minimum)
80,00 € for 1.5 hours per group (1 to max. 25 persons per group)
100,00 € for 2 hours per group (1 to max. 25 persons per group)
More information is provided on the German version here >>>