DNA Bank
The DNA Bank of the Botanic Garden and Botanical Museum Berlin (BGBM) comprises approximately 50.000 DNA and tissue samples. The DNA bank holds samples obtained from plants, fungi, algae and protists collected in the wild, or of documented origin, associated with full relevant documentation. Its declared purpose is to enhance taxonomic and evolutionary studies world-wide by providing
at-cost availability of DNA material for further, complementary or corroborating studies, subject to the recipient's compliance with the letter and spirit of the Convention on Biological Diversity.
permanent storage of DNA material on which molecular studies have been performed, so that results can be corroborated and complemented in the future.
full documentation of each sample, in a database accessible online, with the provenance of plant material, the place of deposit of herbarium voucher (digital images online accessible), DNA extraction techniques and links to extant molecular data (when published).
The stored DNA material derives either from molecular research work performed at the BGBM or from donations by researchers at other institutions, which are accepted under the provisos specified below. The provenance, the extraction method and date, and the year of incorporation into the DNA bank, are specified for each sample.
The BGBM is a founding member of the Global Genome Biodiversity Network (GGBN) and provides its sample data through the GGBN Data Portal.
Check out the online catalogue of BGBM's DNA Bank at GGBN.
Please include following paragraph in your publication if you have used DNA samples from BGBM collections and cite our samples as follows:
"All DNA samples as well as underlying voucher specimens are deposited at the Botanic Garden and Botanical Museum Berlin (BGBM) and are available via the Global Genome Biodiversity Network (GGBN, Droege et al. 2014) and the Global Biodiversity Information Facility (GBIF)."
Droege et al 2014: The Global Genome Biodiversity Network (GGBN) Data Portal. Nucleic Acids Research. 42 (D1): D607-D612.
Stable identifiers
Herbarium specimens: http://herbarium.bgbm.org/object/B100553255
DNA samples: http://dnabank.bgbm.org/object/DB11451
In addition please list all relevant DNA samples and voucher specimens including their stable identifier as follows (e.g. as supplemental material):
| | | | | | | |
| --- | --- | --- | --- | --- | --- | --- |
| Project ID | Voucher ID | DNA Bank ID | Country | Collector | Collector's No | Collection Date |
| GBOL1299 | | | DE | R. Hand & E. von Raab-Straube | RH 6780 | 22.07.2014 |
| GBOL1270 | | | DE | R. Hand | 6456 | 27.04.2014 |
EMBL/NCBI/DDBJ
A list of available tags at NCBI can be found here.
Please use these tags as follows related to underlying DNA and voucher material:
Specimen_voucher       B:Herbarium Berolinense:B 10 0553255
Bio_material                  B:DNA Bank: DB 11451
Tissue_type                   leaf
Strain                             D06_123 (use this tag instead of "Tissue_type" for diatom cultures)                      
Collected_by                  R. Hand & E. von Raab-Straube
Collection_date              22-Jul-2014
Country                          Germany
Contact
phone +49 30 838 50139
E-mail g.droege@bgbm.org
Botanischer Garten und Botanisches Museum Berlin
Freie Universität Berlin
DNA bank
Koenigin-Luise-Straße 6-8
14195 Berlin
Deutschland
Source Material & Documentation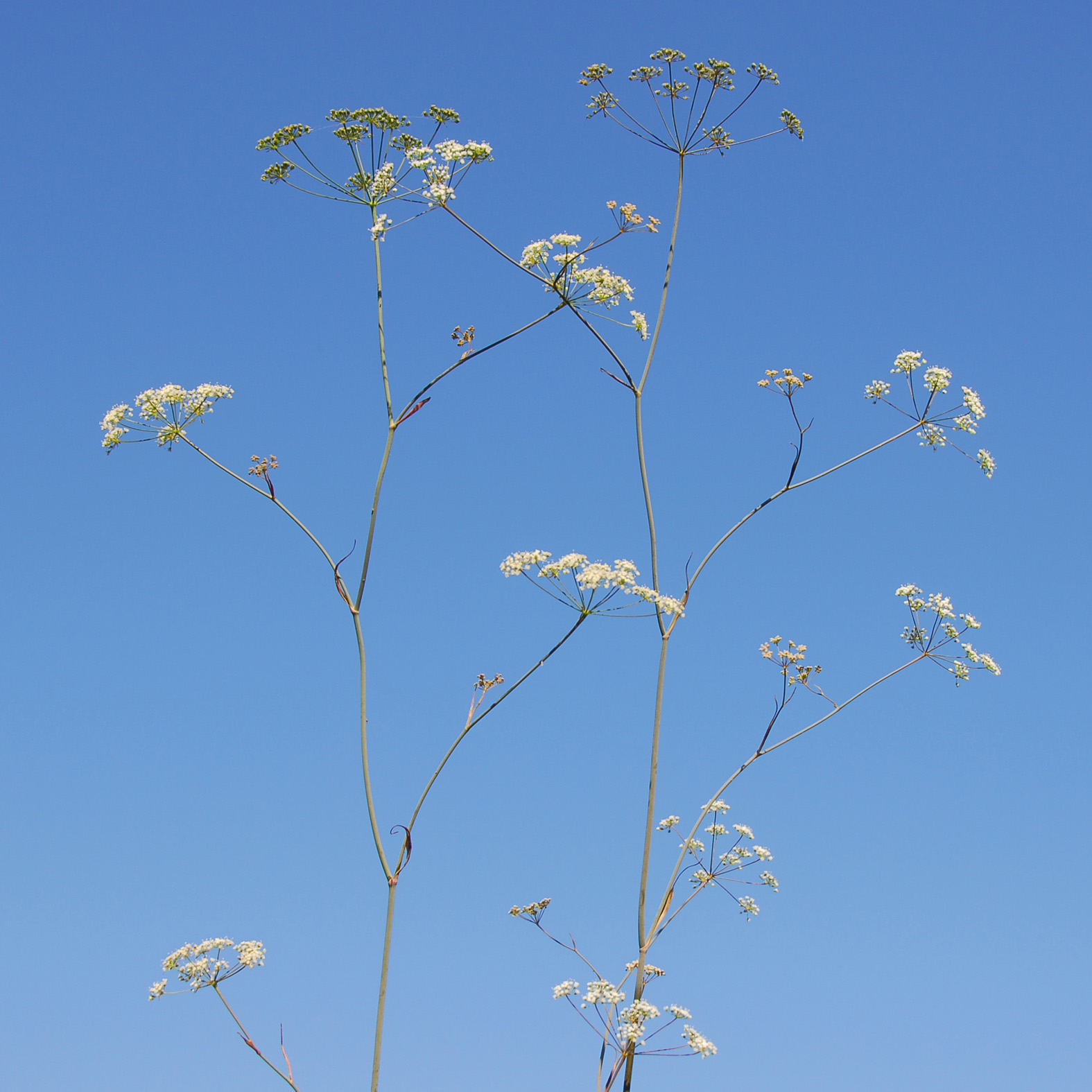 The DNA sources are live cultivated plants of documented origin, silica dried samples gathered (by permission) in the wild, or suitable herbarium specimens. For most of the accessions kept in store herbarium vouchers exist (either at the BGBM or at another specified herbarium), and digital images of each voucher (irrespective of its location) are made available for online consultation. Associated databased information includes the extraction facts, links to sequences, relation to the voucher, scientific name, collector team, collector's number, collecting locality and date, or for cultivated plants the known wild origin.
The description for the new species Scaligeria alziarii from Cyprus was done with supporting material from our DNA bank (see photo on the right).
 
Storage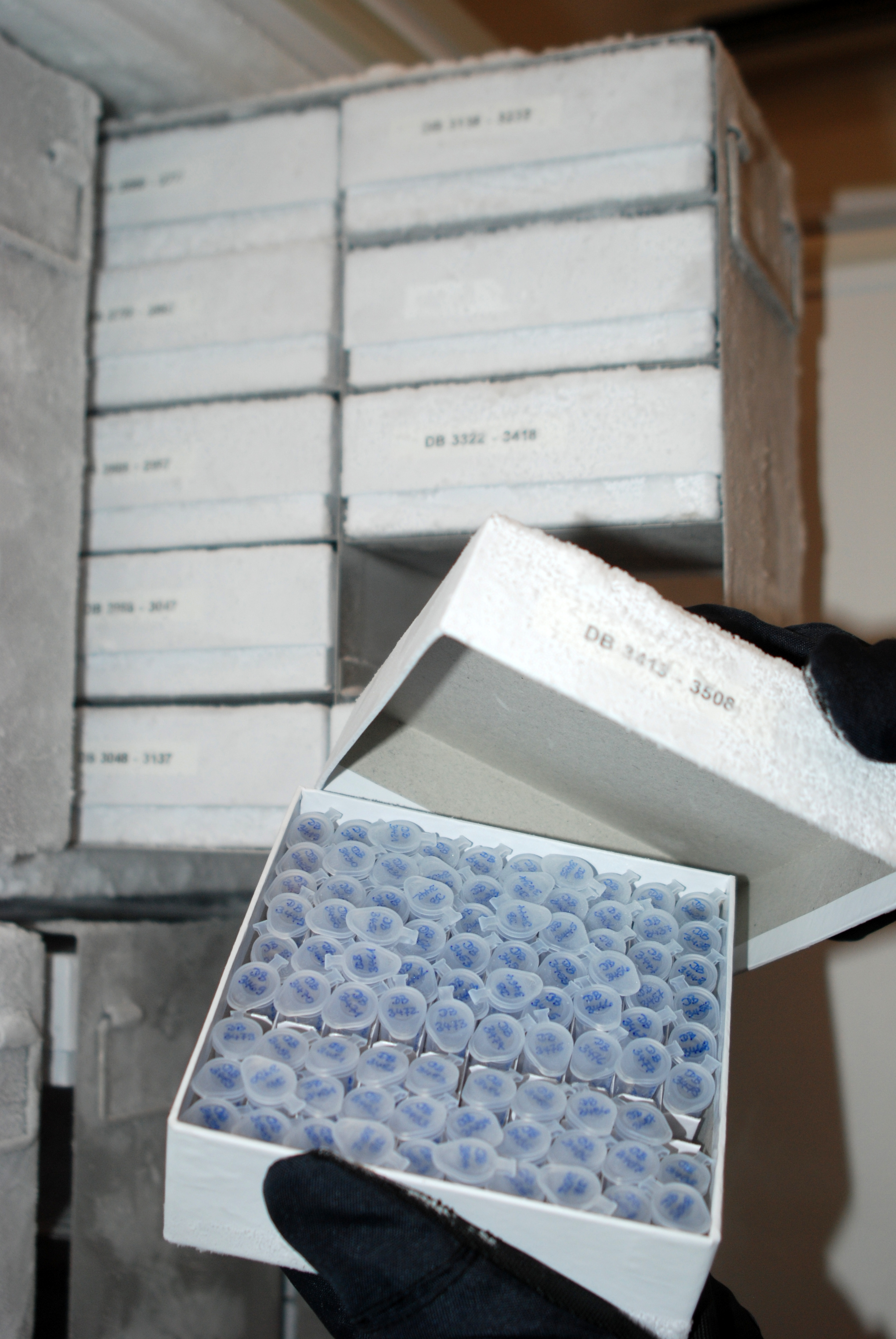 The stored DNA is in general of good quality, of high molecular weight and reasonable concentration, suited for PCR-based amplification. Slight degradation due to inadequately preserved source material may occur occasionally, or weak concentration in taxa with low DNA content. The quality and concentration of samples, and their suitability for intended uses, cannot therefore be guaranteed (e.g., degraded DNA is unsuited for AFLP). Samples which suffer degradation during shipment will be replaced free of charge.  It has to be taken into account that DNA amounts vary, depending on source materials and extraction methods. The samples are stored at –80°C and are cleaned to such an extent that they are stable at ambient temperatures during transfer.
Tissue samples (leave material) are stored in silica gel at room temperature.
More information about the laboratories can be found here.
Donations
DNA donations are accepted free of charge and very welcome, to be incorporated into the Berlin-Dahlem plant DNA bank and correlated database – for the benefit of the scientific community and to guarantee verifiability of results based on them –, if the following conditions obtain:
(1) all necessary information must be supplied (collecting data, determination, method and date of extraction);
(2) a fully labelled voucher specimen must be either deposited at the BGBM orat another publicly accessible herbarium; and
(3) Convention on Biological Diversity (CBD)
Ordering DNA
DNA samples are available at prime cost (to cover extraction, storage, documentation, handling and shipping), exclusively for scientific and educational purposes. Results obtained from the analysis of the material must not be used to engender commercial profit without prior written permission from the Botanic Garden and Botanical Museum Berlin-Dahlem. This, however, will not be granted unless equitable benefit sharing with the countries of origin, under the terms and in the spirit of the Convention on Biological Diversity, is secured. DNA passed on to third parties must be dealt with to the same conditions. In general, aliquots of 20 µl are sent (larger amounts may be available if needed). All available DNA samples can be found at the data portal of the DNA Bank Network (see below). To order DNA material, please use the web portal of the DNA Bank Network and sign the Material Transfer Agreement.
On-demand extraction of DNA, when no suitable samples are available in the DNA base, will be carried out at cost if source material in suitable condition is available at the BGBM, or is made available with full documentation (please enquire via email).
The amount charged, at present, is 15 € per sample. For on-demand DNA extractions the charge levied is 20 € per sample.
By ordering DNA from the Botanic Garden and Botanical Museum Berlin, the recipient accepts and pledges to respect the above conditions.
The Global Genome Biodiversity Network

The Global Genome Biodiversity Network (GGBN) is a global network of well-managed collections of genomic tissue samples from across the Tree of Life, benefiting society through biodiversity research, development and conservation. This network will foster collaborations among repositories of molecular biodiversity in order to ensure quality standards, improve best practices, secure interoperability, and harmonize exchange of material in accordance with national and international legislation and conventions. Its precursor project DNA Bank Network was funded by the DFG and coordinated by BGBM  (2007-2011). BGBM is hosting the technical secretariat of GGBN and coordinates maintenance and further development of its virtual infrastructure.
The GGBN portal is further developed, promoted and sustained in the framework of other projects and as a core activity of the BGBM's Biodiversity Informatics Research Group.